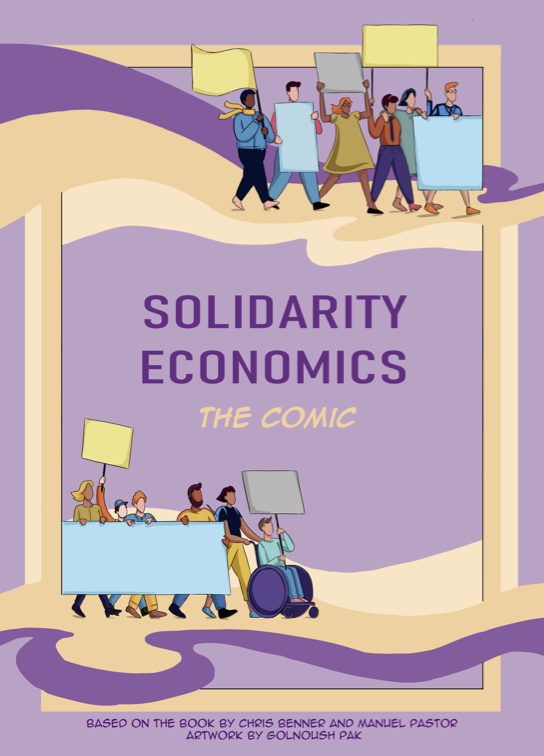 Solidarity Economics: the Comic
This comic adaptation of Solidarity Economics by Drs. Chris Benner and Manuel Pastor, illustrated by Golnoush Pak, provides a concise introduction to the key points of their new approach to economics that prioritizes community, connection, and the collective good.
Challenging traditional self-interest-based economics, Benner and Pastor outline the vital role mutuality plays in our current economy and envision a future where community and the collective good drive prosperity, equity, and sustainability.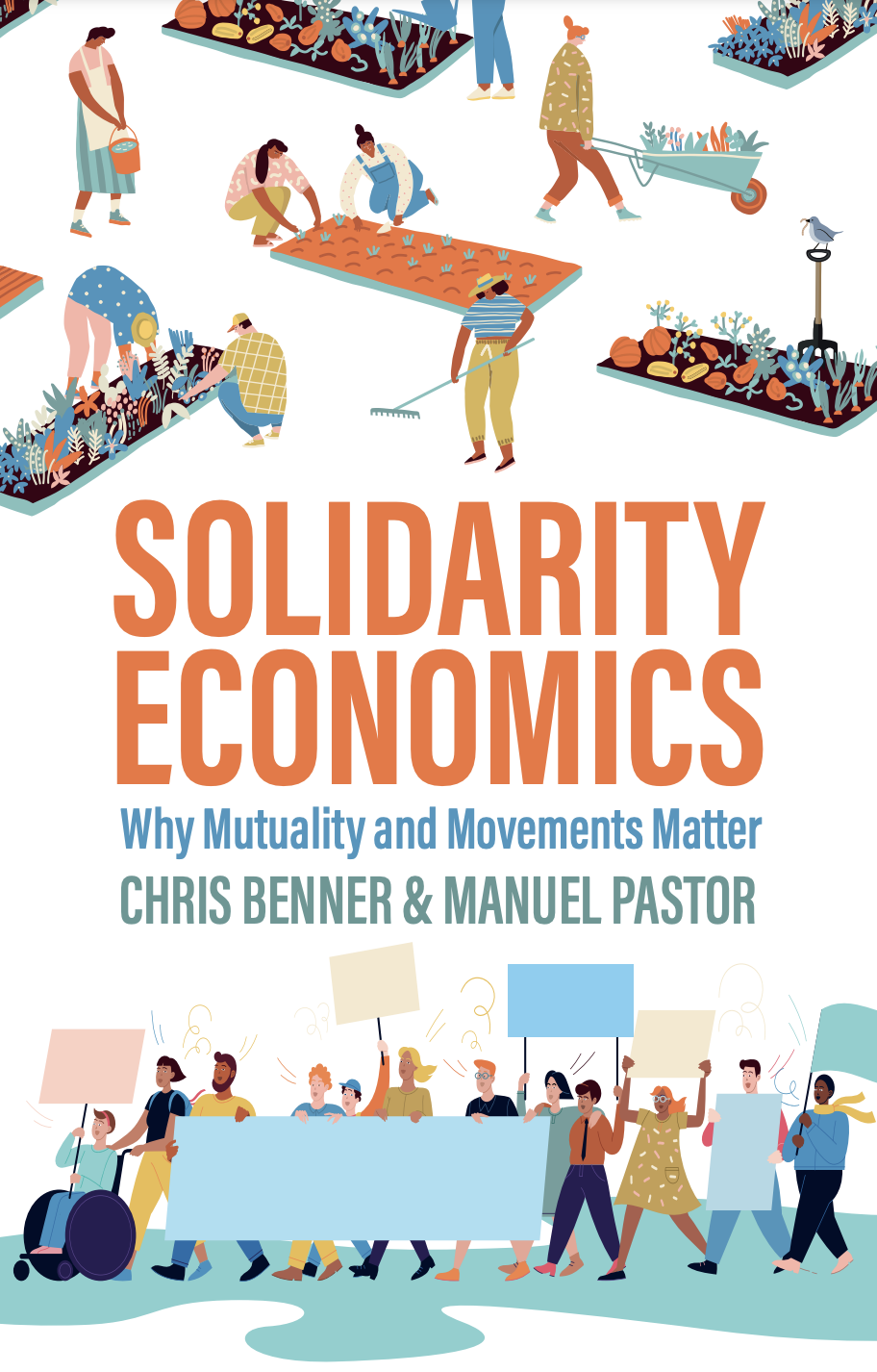 Solidarity Economics: Why Mutuality and Movements Matter
Traditional economics is built on the assumption of self-interested individuals seeking to maximize personal gain. This is far from the whole story, however: sharing, caring and a desire to uphold the collective good are also powerful individual motives. In a world wracked by inequality, social divisions, and ecological destruction, can we build an alternative economics based on our mutual co-operation?
In this powerful blueprint for an equitable future, Manuel Pastor and Chris Benner provide a bold critique of conventional wisdom about who owns the economy. They challenge us to radically imagine how we can design OUR economy to be fully inclusive and guided by the principles of mutuality and solidarity, ensuring that we put people first. – Angela Glover Blackwell Founder in Residence, PolicyLink, host, Radical Imagination podcast
Equity, Growth and Community: What the Nation Can Learn From America's Metro Areas
What the Nation Can Learn From America's Metropolitan Regions
In the last several years, much has been written about growing economic challenges, increasing income inequality, and political polarization in the United States. This new book by Chris Benner and Manuel Pastor argues that lessons for addressing these national challenges are emerging from a new set of realities in America's metropolitan regions: first, that inequity is, in fact, bad for economic growth; second, that bringing together the concerns of equity and growth requires concerted local action; and, third, that the fundamental building block for doing this is the creation of diverse and dynamic epistemic (or knowledge) communities, which help to overcome political polarization and help regions address the challenges of economic restructuring and social divides.
Benner and Pastor examine how inequality stunts economic growth and how bringing together equity and growth requires concerted local action. Combining data, case studies, and emerging narratives on multi-sector collaborations in 11 metro regions, the book offers a powerful prescription not just for metros but for our national challenges of slow job growth, rising economic inequality, and sharp political polarization.
Just Growth: Inclusion and Prosperity in America's Metropolitan Regions
Combining statistical analysis of the largest metropolitan regions in the U.S. with a set of seven in-depth case studies, the authors point to the processes, policies and institutional arrangements that help explain more equitable growth (or its absence) in metropolitan settings. These include the stabilizing effect of the public sector, the positive impact of deconcentrating poverty, the influential role of a minority middle class, and the importance of leadership efforts to develop a shared vision amongst diverse constituencies.
Breaking new ground in its innovative blend of quantitative and qualitative methods, the book argues that another sort of growth is possible. Offering specific insights for regional leaders and analysts of metropolitan areas, the authors also draw a broader – and quite timely – set of conclusions about how to scale up these efforts to address a U.S. economy still seeking to recover from economic crisis and distributional divisions.

Paperback copies of Just Growth can be purchased for $25 at Routledge and Amazon.com, or even as a Kindle edition for only $9.99. Also, thanks to generous funding from the Ford Foundation, a limited number of copies of the book are available free for use in community efforts, professional circles, and classes. 
This Could Be the Start of Something Big: How Social Movements for Regional Equity Are Reshaping Metropolitan America
For nearly two decades, progressives have been dismayed by the steady rise of the right in U.S. politics. Often lost in the gloom and doom about American politics is a striking and sometimes underanalyzed phenomenon: the resurgence of progressive politics and movements at a local level. Across the country, urban coalitions, including labor, faith groups, and community-based organizations, have come together to support living wage laws and fight for transit policies that can move the needle on issues of working poverty. Just as striking as the rise of this progressive resurgence has been its reception among unlikely allies. In places as diverse as Chicago, Atlanta, and San Jose, the usual business resistance to pro-equity policies has changed, particularly when it comes to issues like affordable housing and more efficient transportation systems. To see this change and its possibilities requires that we recognize a new thread running through many local efforts: a perspective and politics that emphasizes "regional equity."
Manuel Pastor Jr., Chris Benner, and Martha Matsuoka offer their analysis with an eye toward evaluating what has and has not worked in various campaigns to achieve regional equity. The authors show how momentum is building as new policies addressing regional infrastructure, housing, and workforce development bring together business and community groups who share a common desire to see their city and region succeed. Drawing on a wealth of case studies as well as their own experience in the field, Pastor, Benner, and Matsuoka point out the promise and pitfalls of this new approach, concluding that what they term social movement regionalism might offer an important contribution to the revitalization of progressive politics in America.