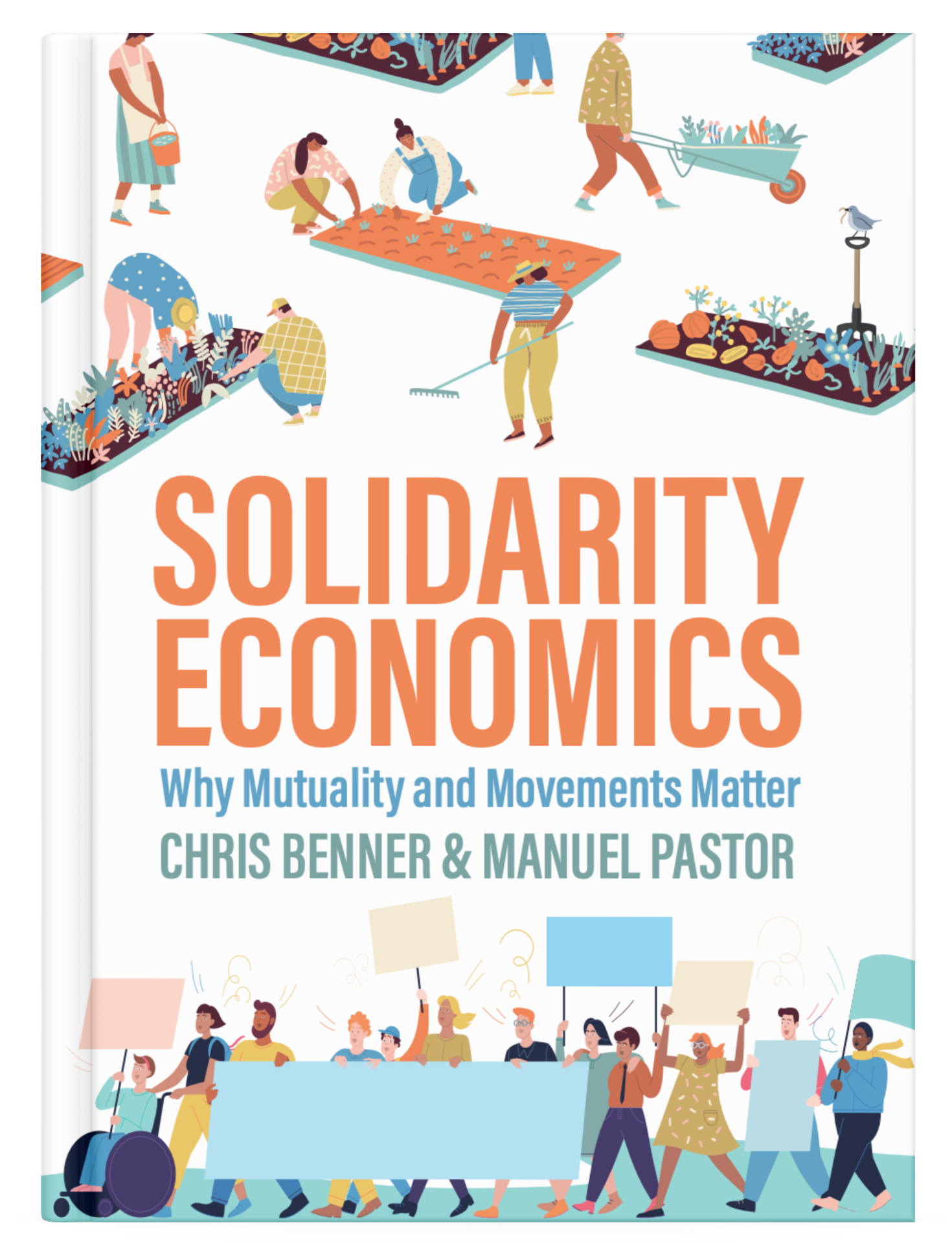 Traditional economics is built on the assumption of self-interested individuals seeking to maximize personal gain. This is far from the whole story, however: sharing, caring and a desire to uphold the collective good are also powerful individual motives. In a world wracked by inequality, social divisions, and ecological destruction, can we build an alternative economics based on our mutual co-operation? In this book Chris Benner and Manuel Pastor invite us to imagine and create a new sort of solidarity economics – an approach grounded in our instincts for connection and community – and in so doing, actually build a more robust, sustainable, and equitable economy. They argue that our current economy is already deeply dependent on mutuality, but that the inequality and fragmentation created by the status quo undermines this mutuality and with it our economic wellbeing. They outline the theoretical framing, policy agenda, and social movements we need to revive solidarity and apply it to whole societies.
Solidarity Economics
is an essential read for anyone who longs for an economy that can generate prosperity, provide for all, and preserve the planet.
Click here to obtain a free e-version
For a print version, support independent bookstores:
Reparations Club
and
Bookshop Santa Cruz
Solidarity Economics should upend the way that economics is taught in schools and practiced in the halls of power. It offers a way out of the zero sum, drained-pool politics of neoliberalism at a crucial time. Solidarity Economics is going to be a classic of our current era.
'We got us' was the powerful refrain heard throughout the Black and Brown communities hit hardest by the COVID-19 crisis. Behind this pithy motto were countless mutual aid networks providing supplies, care, and cash for families left reeling from the pandemic. It's against the backdrop of these inspiring acts of solidarity that Drs. Pastor and Benner put forth their vision for a caring American economy built on mutuality and driven by the social movements that have delivered for our people time and again. Indeed, as we reckon with the moral failings of neoliberalism,
Solidarity Economics
challenges us to center the unique potential of collectivities in shaping our economic future — one that delivers for us all, not just the wealthiest among us.
Economics makes us forget that solidarity is the glue that holds society together, and the force that can be harnessed for social progress. Solidarity Economics is a fascinating and much needed book to think bigger and act boldly.
There has never been a more critical moment to shift away from an economic approach that benefits the few to one prioritizing the greater good. We have been sold a false bill of goods over the last four decades of American policy that you cannot have a thriving economy
and
shared prosperity. With its focus on how we all do better when we all do better,
Solidarity Economics: Why Mutuality and Movements Matter
, not only smashes that myth –but provides an essential framework for how we finally reimagine and restructure an economy that works for all."
In this brilliant and superbly readable book, Benner and Pastor take clear-eyed aim at the conventional wisdom about the foundations of economic well-being, and blow it out of the water. If you, too, believe that another world is possible – and necessary – this book is for you.
I
n this powerful blueprint for an equitable future, Manuel Pastor and Chris Benner provide a bold critique of conventional wisdom about who owns the economy. They challenge us to radically imagine how
we can design OUR
economy to
be
full
y
inclusive
and guided by
the principles of mutuality and solidarity, ensuring that we put people first
.